My Favourite Whole Food Amazon Finds
These are my absolute favourite whole food Amazon finds that I use to make my yummy $ nutritious recipes.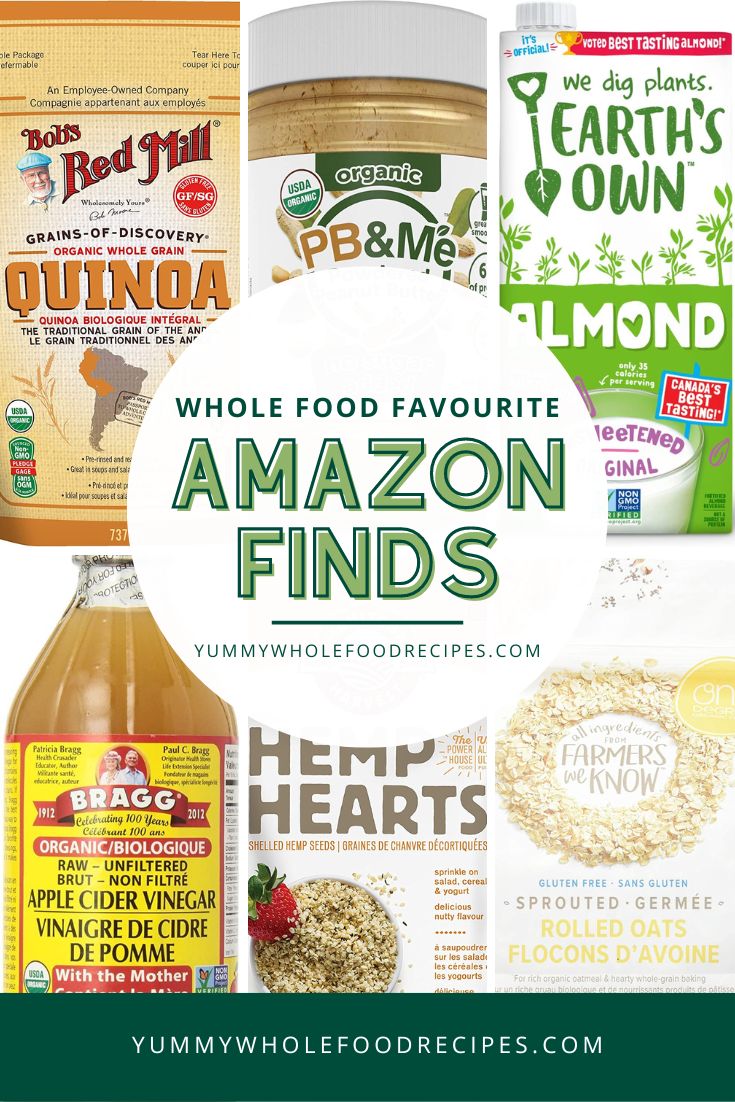 This versatile almond milk is a wonderful base for homemade smoothies, or as a creamy addition to your morning coffee.
This savory flaked nutritional yeast can add a cheesy flavour to your sauces and stews if you want to skip the actual cheese.
Quinoa makes a great base for a hearty and healthy lunch or breakfast bowl, and this whole food Amazon find quinoa is delicious and quick to cook.
Swap all purpose white flour for this organic sprouted wheat flour to add some extra nutrition to your baking.
Our family loves the taste of these sprouted rolled oats cooked as a breakfast cereal, or they're a great addition to baking.
A sprinkling of hemp hearts is an easy way to add a little protein to your meal, and I love these hemp hearts on my yogurt or salads.
If you want the crunch of a cracker but want to keep the ingredients simple, these cheese crisps are a satisfying snack.
This powdered peanut butter tastes delicious in my peanut butter energy bites, or add some water to it and use it as a dip for apple slices. It's definitely one of my most used whole food Amazon finds!
I also love FATSO butters for their more complex taste. I add a tablespoon of this to my morning yogurt at least a few times a week!
Chickpeas are a staple for a whole food diet, and you can eat them raw, roasted, or smashed into hummus. Here's how I roast my chickpeas for salads and bowls.
I love the taste of olive oil, and it's a wonderful way to add healthy fats to your diet. This one has a fabulous flavour!
For making homemade dressings and drinks, this apple cider vinegar has the perfect sour flavour.
If you don't have time to make it from scratch, this pasta sauce contains all natural ingredients with no added sugars or preservatives.
I hope you enjoyed my list of whole food Amazon finds. Do you have any favourites not listed here? Let me know in the comments!