10 Healthy Foods to Have Prepped in the Fridge
Want to cut down on takeout? Want to make your meals quicker to put together? Here are 10 healthy foods to have in your fridge prepped & ready to go for a week of yummy eating!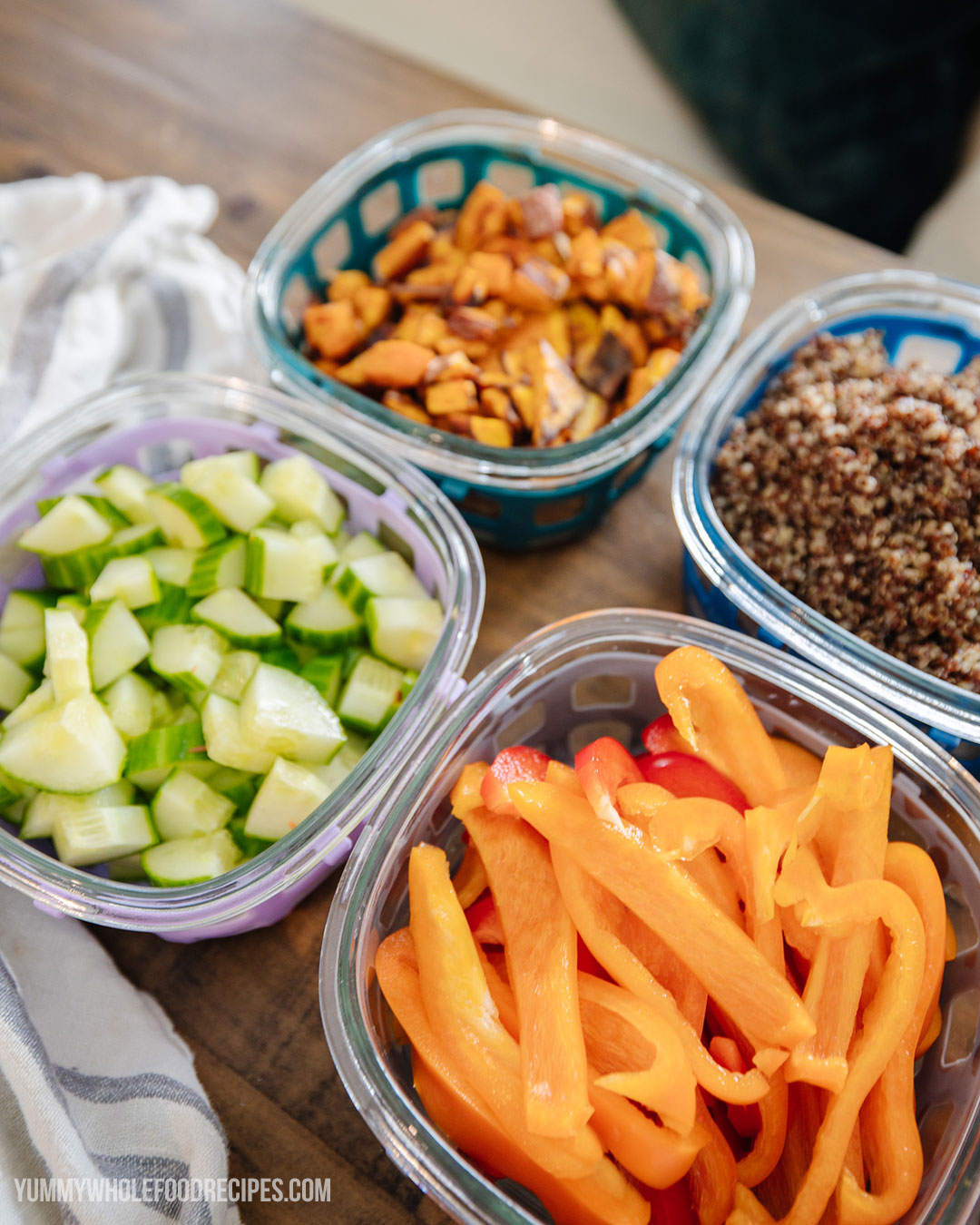 I find if I can plan ahead – even a little! – at the start of each week, it's easier for me to make healthy meal & snack choices. If I have most or all of these 10 healthy foods in my fridge, I can mix and match them to create delicious and nutritious meal combinations instead of reaching for something packaged. Here they are:
Chopped Vegetables
Washing and chopping my vegetables at the start of the week makes them more likely to be eaten – by my AND my family. I use glass containers from Costco to store the veggies, and I have a dedicated drawer in my fridge for them. When I'm hungry for a snack, yummy chopped veggies are always quick and healthy. Our family favourites are carrots, cucumbers and sweet bell peppers.
Egg Bites
As a breakfast or snack, these simple-to-make egg bites are handy to have stored in your fridge… or even in your freezer. I often try to make these on Sunday, and then store them in a sealed glass container in my fridge for easy breakfasts. (P.S. You can also buy similar egg bites at Costco in their frozen foods section if you're having a busy week!)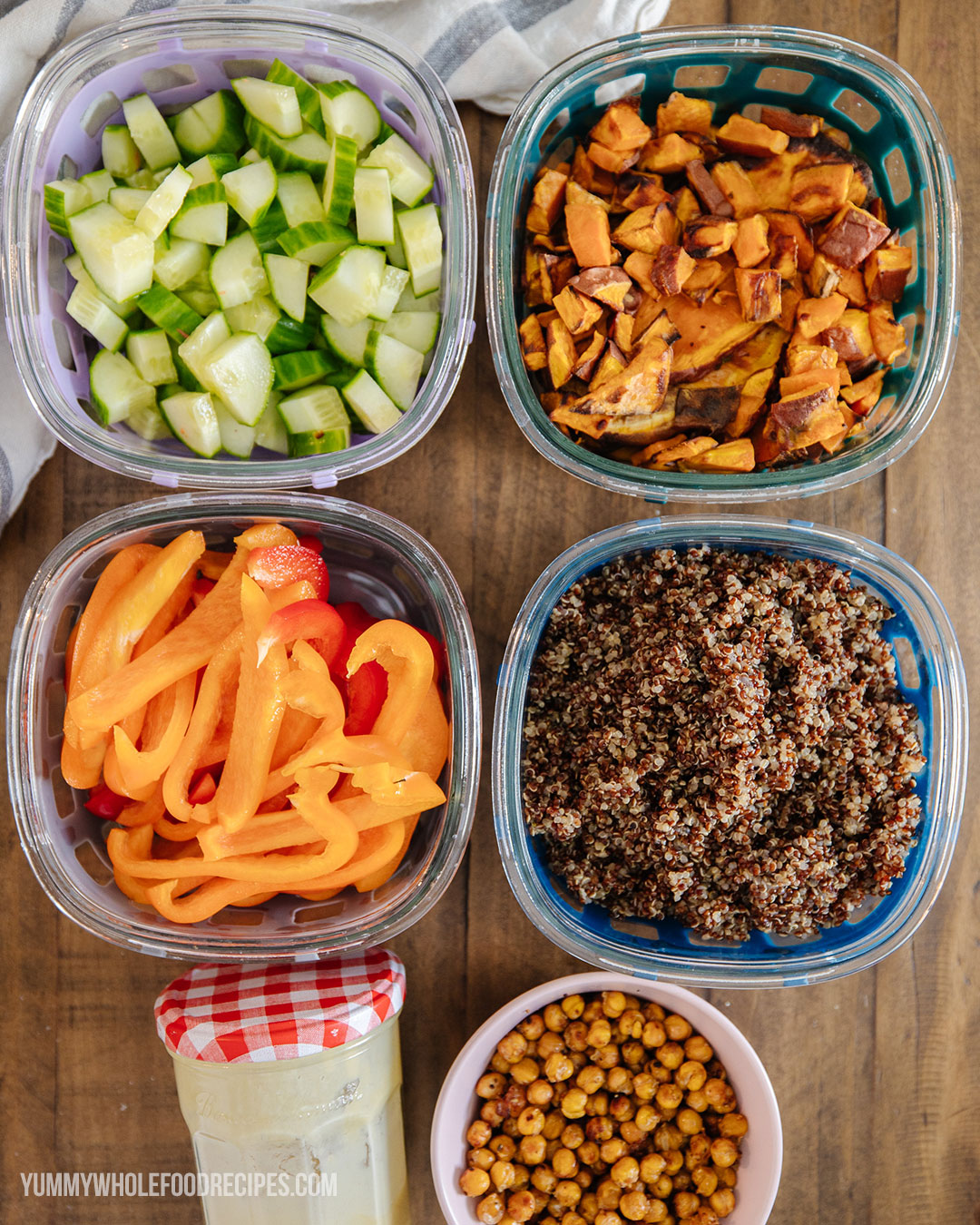 Roasted, Cubed Sweet Potato
Sweet potato works in so many dishes (like this lunch bowl or a sheet pan dinner). I find they take a little while to prep, so if I roast or air fry them at the start of the week and pop them in the fridge I'm more likely to eat them. I find the quickest way to prep them is to chop them into 1/2″ cubes, mix them with olive oil and seasonings and air fry them, but you can also roast them in the oven.
Cooked Quinoa
One of my favourite grains to use in lunch bowls is quinoa. It's flavourful and hearty, and it combines well with so many other foods. Use quinoa in a lunch bowl or a salad throughout the week. I try to cook a couple cups of quinoa on Sunday, and then store it in a sealed glass container in the fridge to use throughout the week.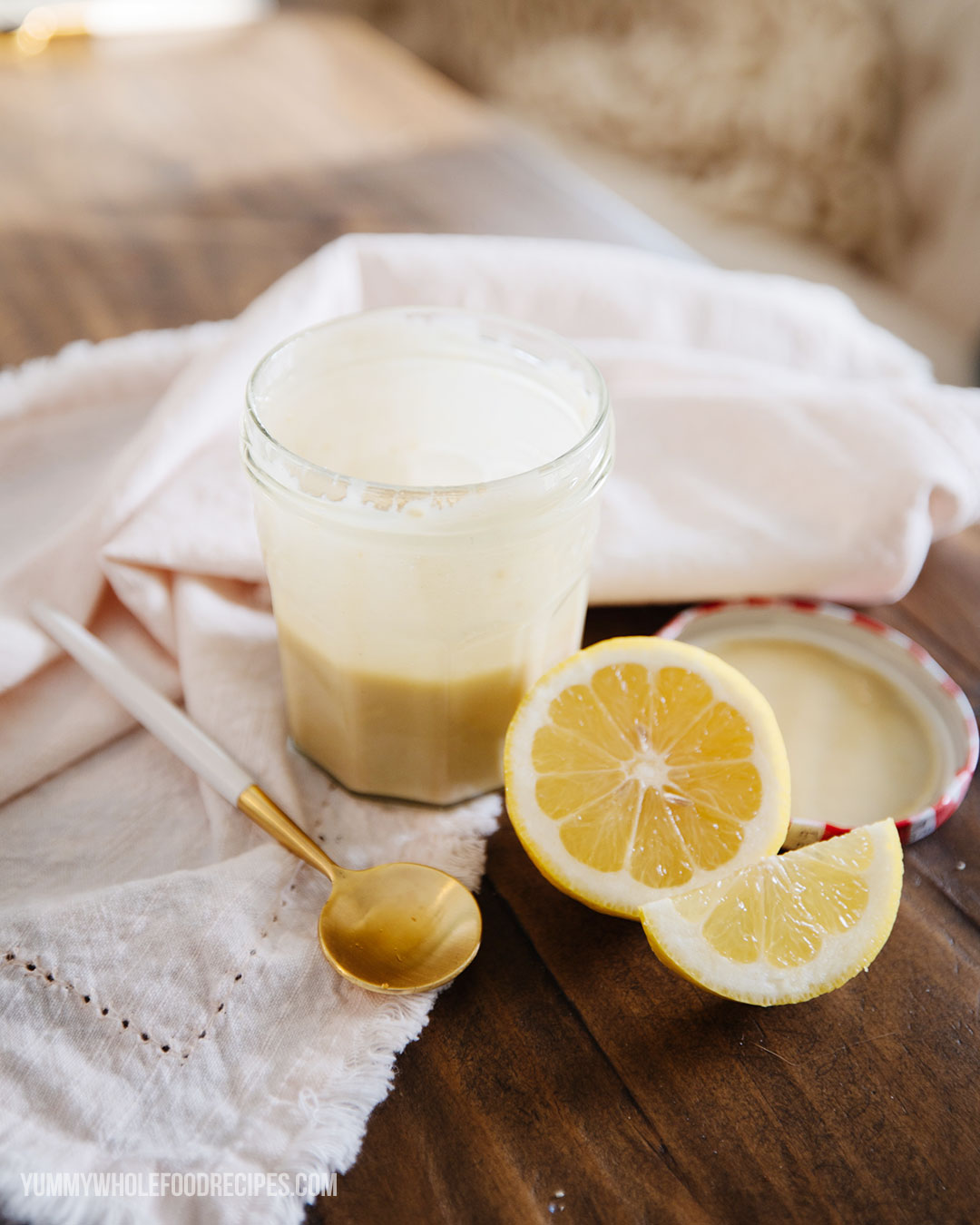 Lemon Tahini Sauce
This flavourful, vegan sauce works well on many dishes like Buddha Bowls or salads. It's simple to put together at the start of the week, and stores well in the fridge. Here's my recipe for perfect lemon tahini sauce!
Spiralized Vegetables
Ever since I bought the spiralizer attachment for my KitchenAid, I've been spiralizing and storing vegetables in my fridge. I like to swap regular noodles for zucchini noodles, and fresh zoodles taste fantastic! You can also spiralize sweet potatoes to use in dishes throughout the week as well. Here's one of my favourite ways to eat zoodles.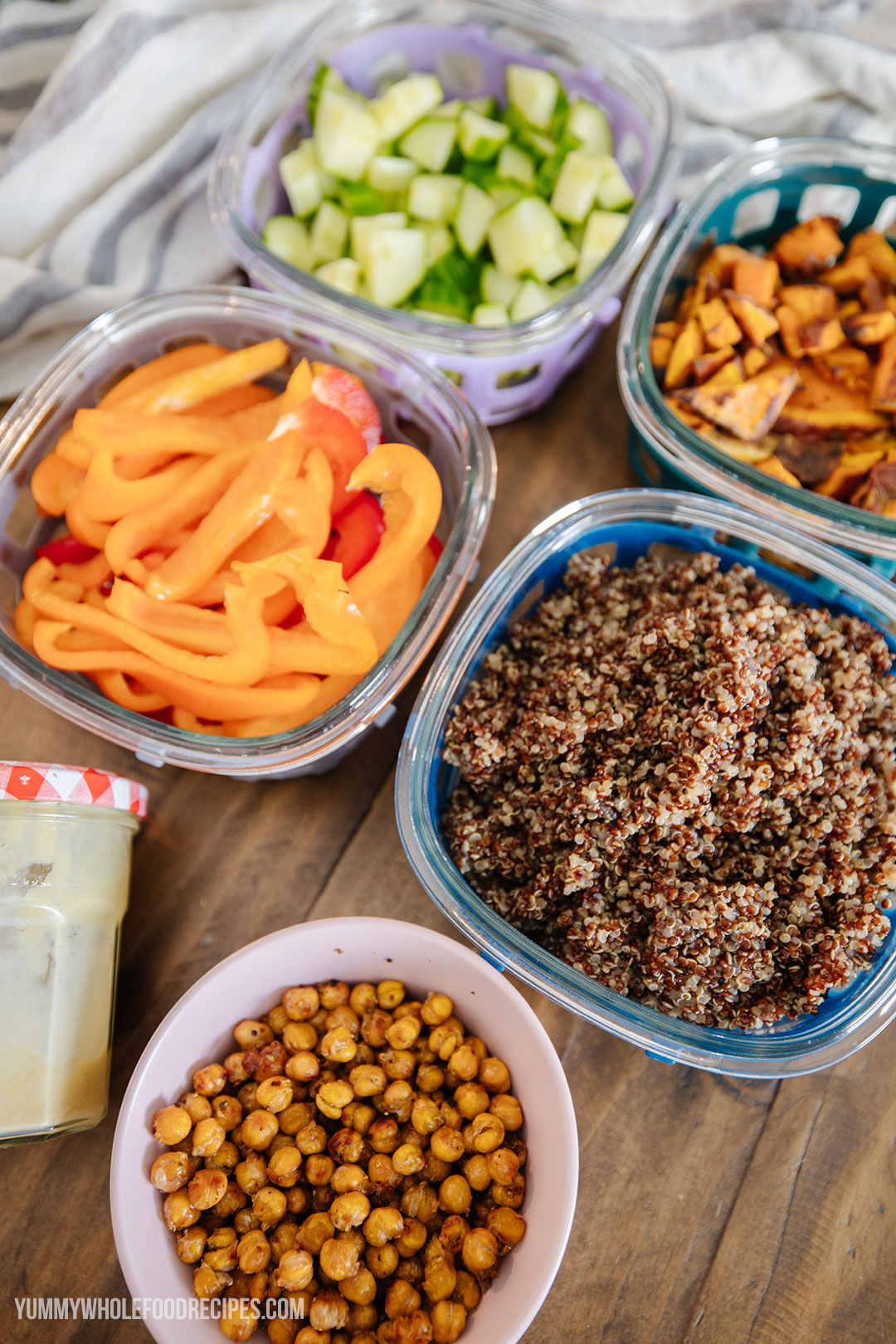 Roasted Chickpeas
Chickpeas are an excellent source of plant-based protein, and I think they taste so much better when they're roasted or air fried. Here's how I roast chickpeas! After they're roasted and cooled, store them in an air-tight container in the fridge to use in various dishes.
Homemade Balsamic Dressing
My favourite type of dressing to use on salads is balsamic dressing, and it's so easy to make. It's a lot cheaper to make it from scratch than to buy it, and you can easily store it in the fridge for at least a week. Here's my simple balsamic dressing recipe – simply add all the ingredients to a mason jar and shake it up!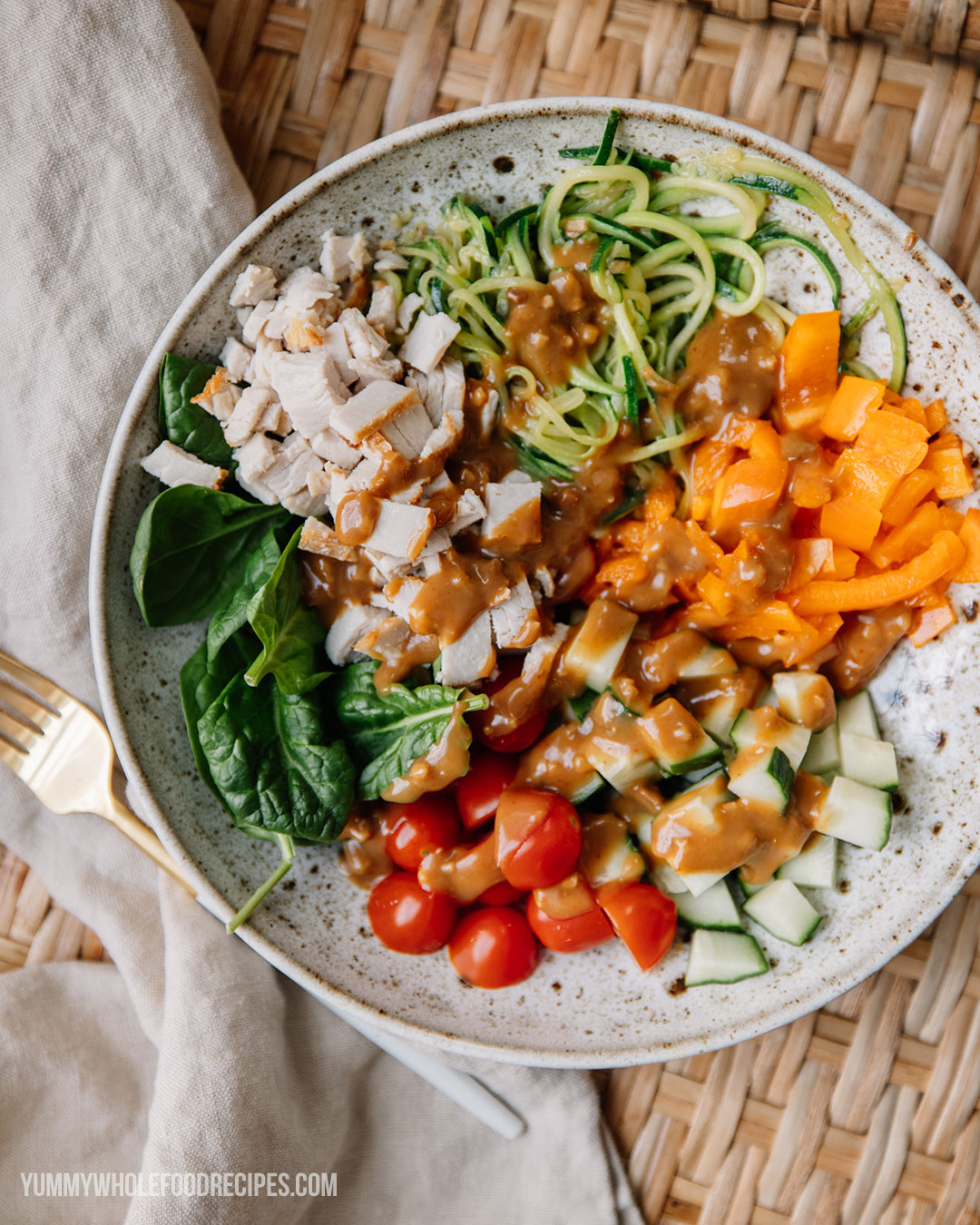 Chopped Cooked Turkey or Chicken Breast
Another easy food item to throw on lunch bowls or salads are cooked, chopped chicken or turkey breast. You can either buy them from the grocery store (I love Costco's), or chop up leftovers from a roasted chicken or turkey dinner.
Grated Cheese
I don't know about you, but I'm not a huge fan of the texture and flavour of the pre-grated cheese you buy in bags at the store. Instead? I like to grate my own cheese at the start of the week to use in my lunches and dinners. Our family favourite is cheddar cheese, but grated Mozarella is also a good staple to have in the fridge.
Tell me: What healthy foods to prep & store in your fridge for the week ahead? I'd love to hear your ideas!