What is a whole food diet? A beginner's guide.
So, what exactly IS a whole food diet and how do you get started eating more whole foods? Let's talk about it!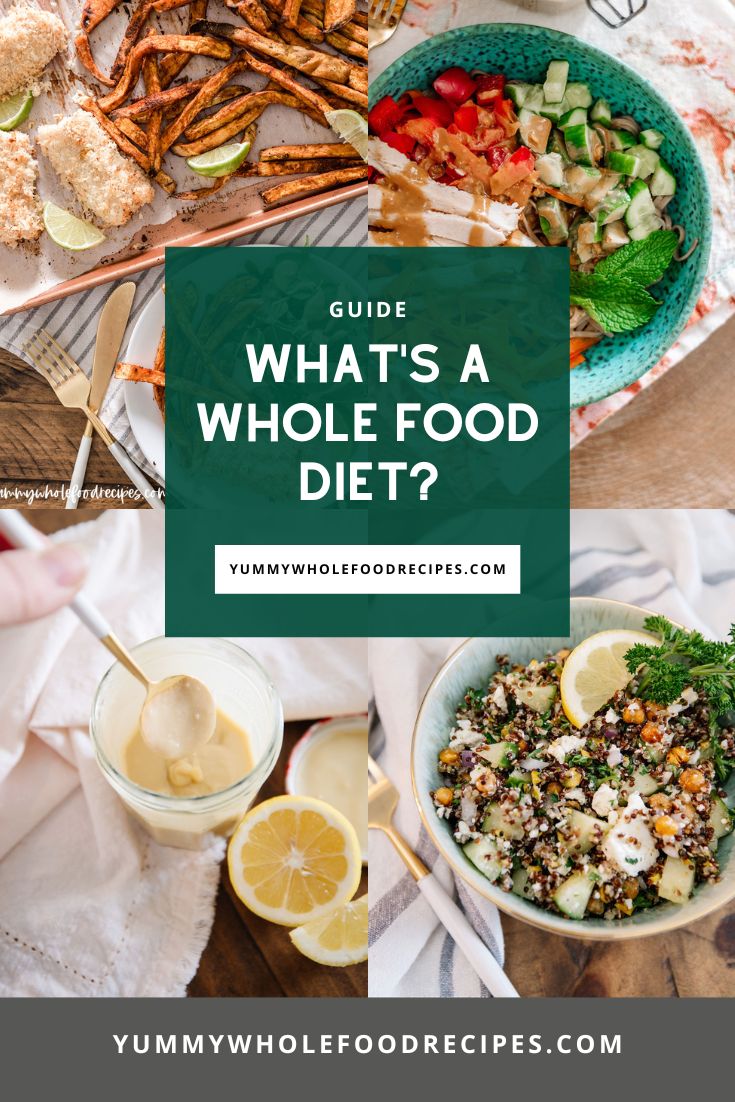 What is a whole food?
A whole food is a food that's as close to its natural, unprocessed form as possible.1 Whole foods include whole grains, fruits and vegetables, lean meats like chicken and fish, milk, yogurt, legumes, nuts, and seeds.
More examples of whole foods:
Whole grains like…

oats
quinoa
barley
whole wheat

Vegetables like…

lettuce
broccoli
carrots
sweet bell peppers
sweet potato

Fruits like…

apples
oranges
lemons
berries
Meats like…
Legumes, nuts and seeds like…

chickpeas
black beans
almonds
pecans
chia seeds
pumpkin seeds

Dairy products like…
Eggs
What do you eat on a whole food diet?
Eating a whole food diet is choosing mostly whole foods and avoiding things like fast food, foods with lots of added sugar and sodium, and packaged foods with a long list of mystery ingredients. This way of eating isn't really a "diet" – it's a sustainable way to eat for the rest of your life.
My approach to a whole food diet
I eat 80-90% whole foods, but I do still enjoy the occasional cookie, cake, candy or baked goods. I want to eat this way for the rest of my life because I feel great, but I also don't want to fall into any sort of disordered eating pattern. For me, no food is off limits, but I know my body feels best when I'm consuming mostly whole foods!
If you're looking for my favourite dessert, bread & fancy drink recipes, you can find them here at my The DIY Mommy recipes site!
How a whole food diet changed my life
Once I started and maintained a mostly whole food diet that was plant-forward (yes, I still eat meat but I eat FAR more plants than I used to), I experienced the following:
weight loss*
clearer skin
improved digestion
improved thyroid function**
*Keep in mind that a whole food diet wasn't the only thing that helped me lose weight. I attribute that to joining the Gina Livy program, which promotes not only a nutritious diet but stress reduction, more water intake, better sleep habits, and more. I highly recommend this program, and you can see all the details here. MINDSET and COMMUNITY via the Gina Livy program truly launched my whole health journey in 2022.
**based on my blood tests
How to get started eating whole foods
My journey into eating mostly whole foods started with my MINDSET. I was tired of feeling bloated and exhausted. If I didn't start making some diet and lifestyle changes NOW, as I approached 40 years old, when WOULD I? And would it get any easier as I got older? (No!) Once I decided I wanted to FEEL BETTER and that NOW was a good time to start, I joined the Gina Livy program and thus began eating mostly whole foods. You don't have to join this program to begin eating whole foods, but the community and easy-to-follow guidelines in this program certainly helped me stay accountable to this new way of life.
So, in short, here's how I recommend starting a (mostly) whole food diet:
Determine WHY you want to eat mostly whole foods. Is it to feel better? Is it to lose weight? Is it to set a good example for your kids? Is it to support your local farmers? Is it a combination? Write this down and refer to it often.
Find a community that can keep you accountable. Whether it's a community like the Gina Livy program or a group of friends on Facebook, surround yourself with a community of like-minded people that can support you – and then you can support yourself!
Make a meal plan & a shopping list and stick to them. Creating a weekly meal plan and shopping list will help you only buy (mostly) healthy, whole foods that support your new way of living. Ever heard of shopping the perimeter of the grocery store and skipping the middle? This certainly helps (though I find I have to go to the middle aisles for staples like canned beans and whole grains). Here's a basic whole food eating meal plan to help get you started.
Sources:
Lisa Young, PhD, RDN, author of Finally Full, Finally Slim: https://www.everydayhealth.com/diet-nutrition/whole-foods-diet/