Baked Oatmeal Recipe for One
Looking for a satisfying breakfast full of fiber and protein? This baked oatmeal recipe for one is easy to make, and it's the perfect, cozy way to start the day.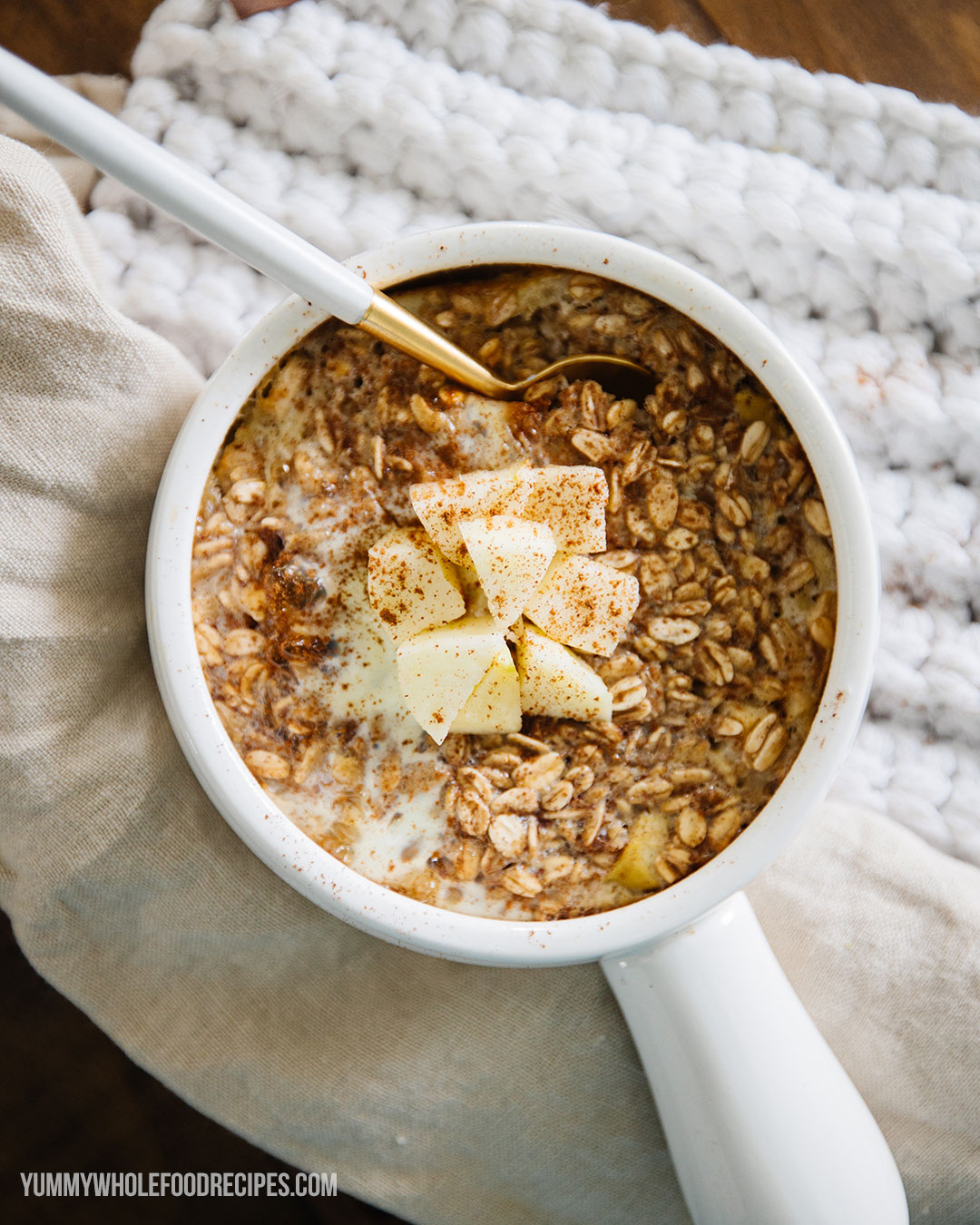 Over the past year I've been making an effort to eat a nutritious and satisfying breakfast full of protein. While my quick go-to is this simple Greek yogurt bowl, baked oatmeal is soon becoming my next favourite breakfast! My body's always loved oatmeal, and with the addition of milk and egg this oatmeal bake has the extra protein that I crave to start my day off with more long-lasting energy.
This recipe is for one person since I usually enjoy this dish after my kids are off to school. However, you could double or quadruple it and bake it in a casserole dish on a weekend morning for the whole family. You can also bake multiples of these single-served baked oatmeal portions in small ramekins and refrigerate them to heat up later throughout the week. The addition of apples and cinnamon give this dish a comforting, cozy taste and the most delicious aroma as it bakes.
For another way to eat oats in the morning, you might also like my easy overnight oats recipe! It's another great way to make individual portions of oatmeal to enjoy, and it can be done in advance so you can grab and go on busy mornings.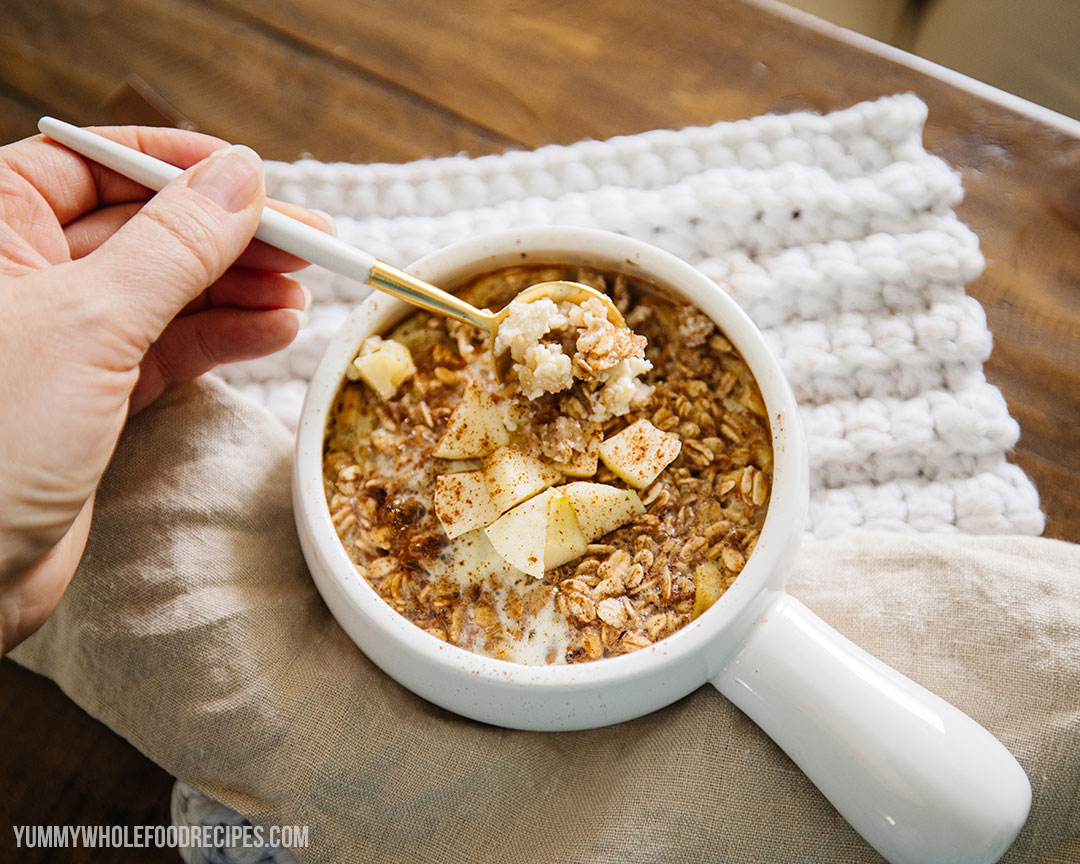 Ingredients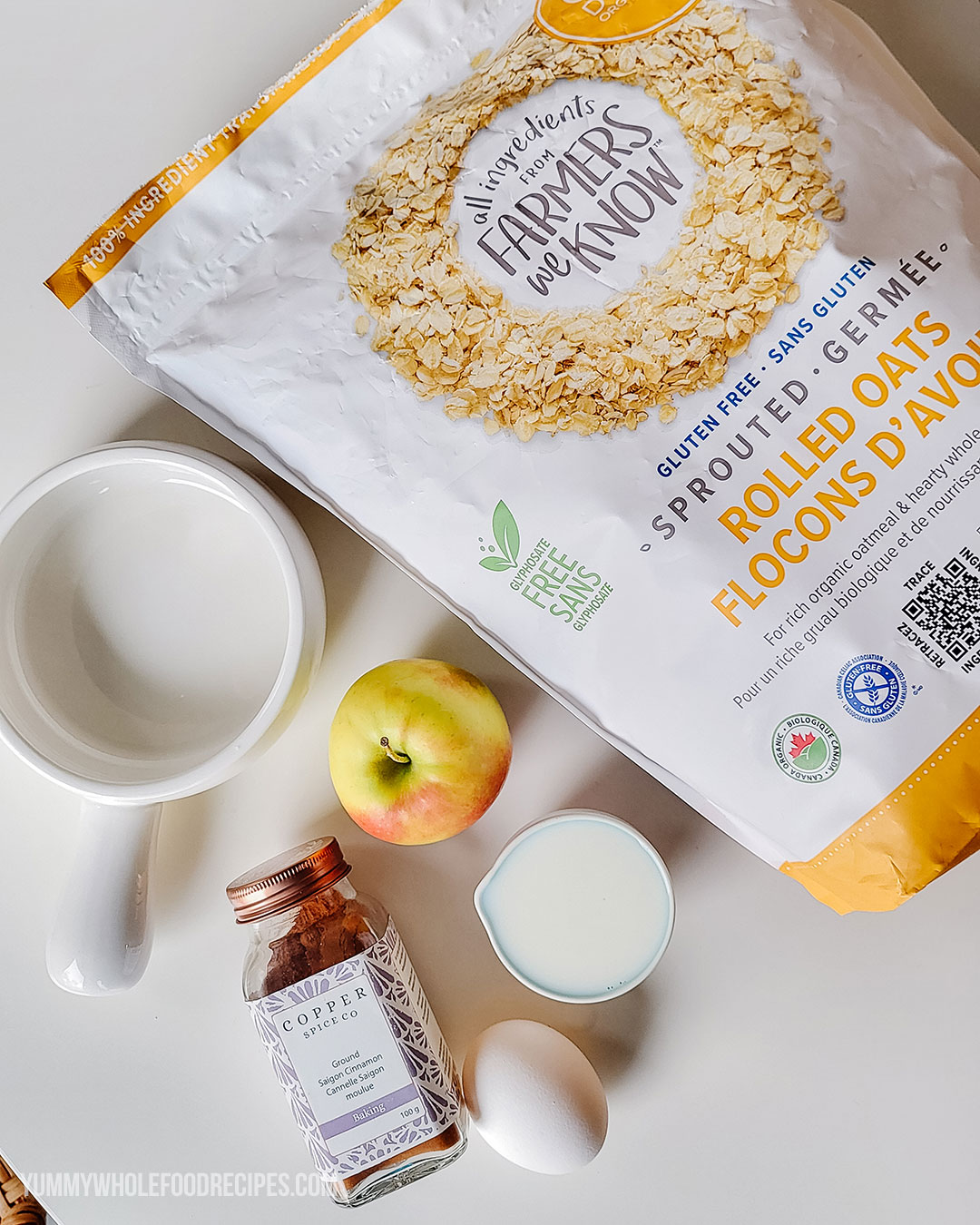 See recipe card for quantities.
Tip: You can use a base recipe to make various baked oatmeal recipes for one with different flavours. Read on for the simple basic recipe with variation ideas!
Instructions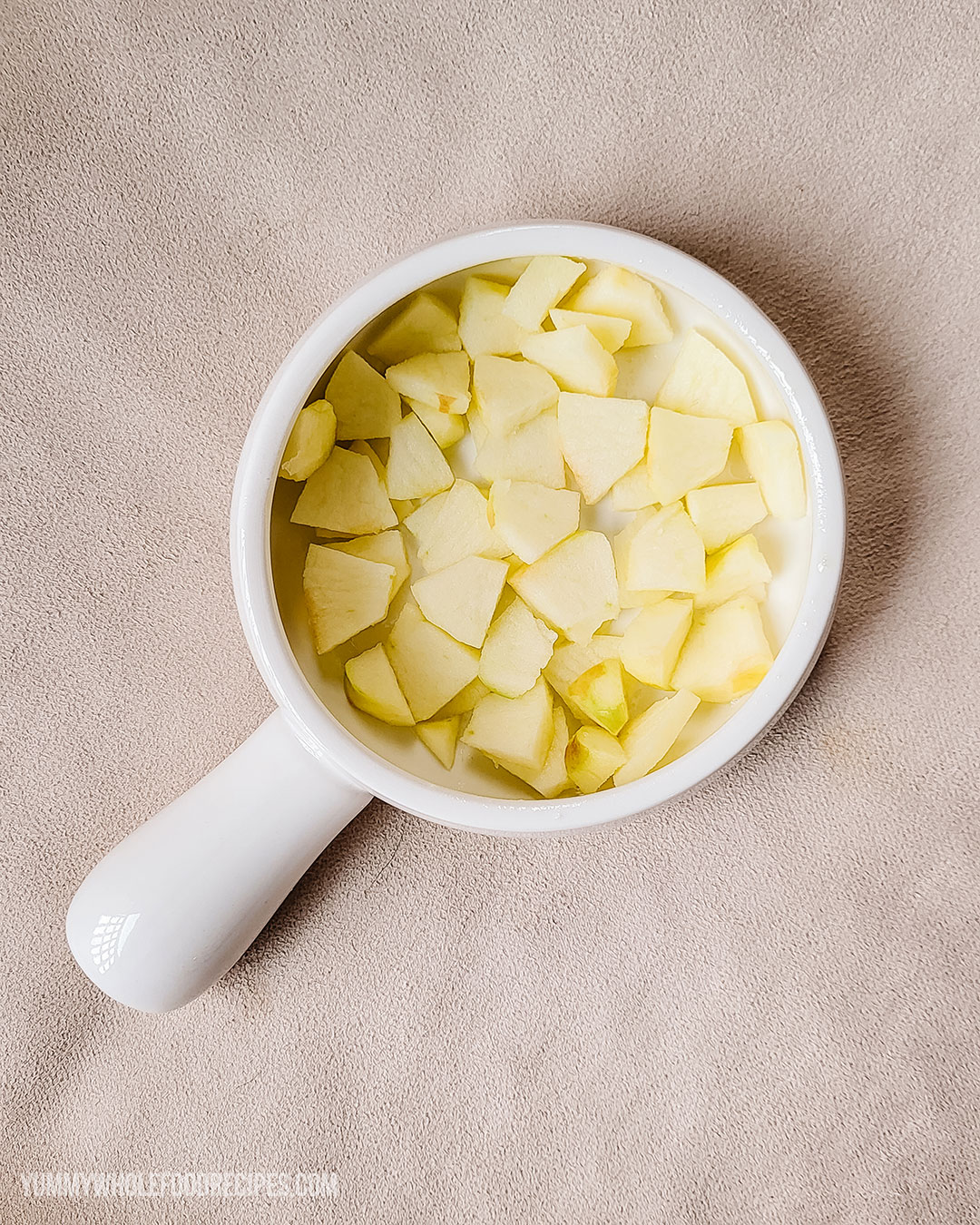 Chop half the apple into 1/2″ pieces and place into a small prepared baking dish.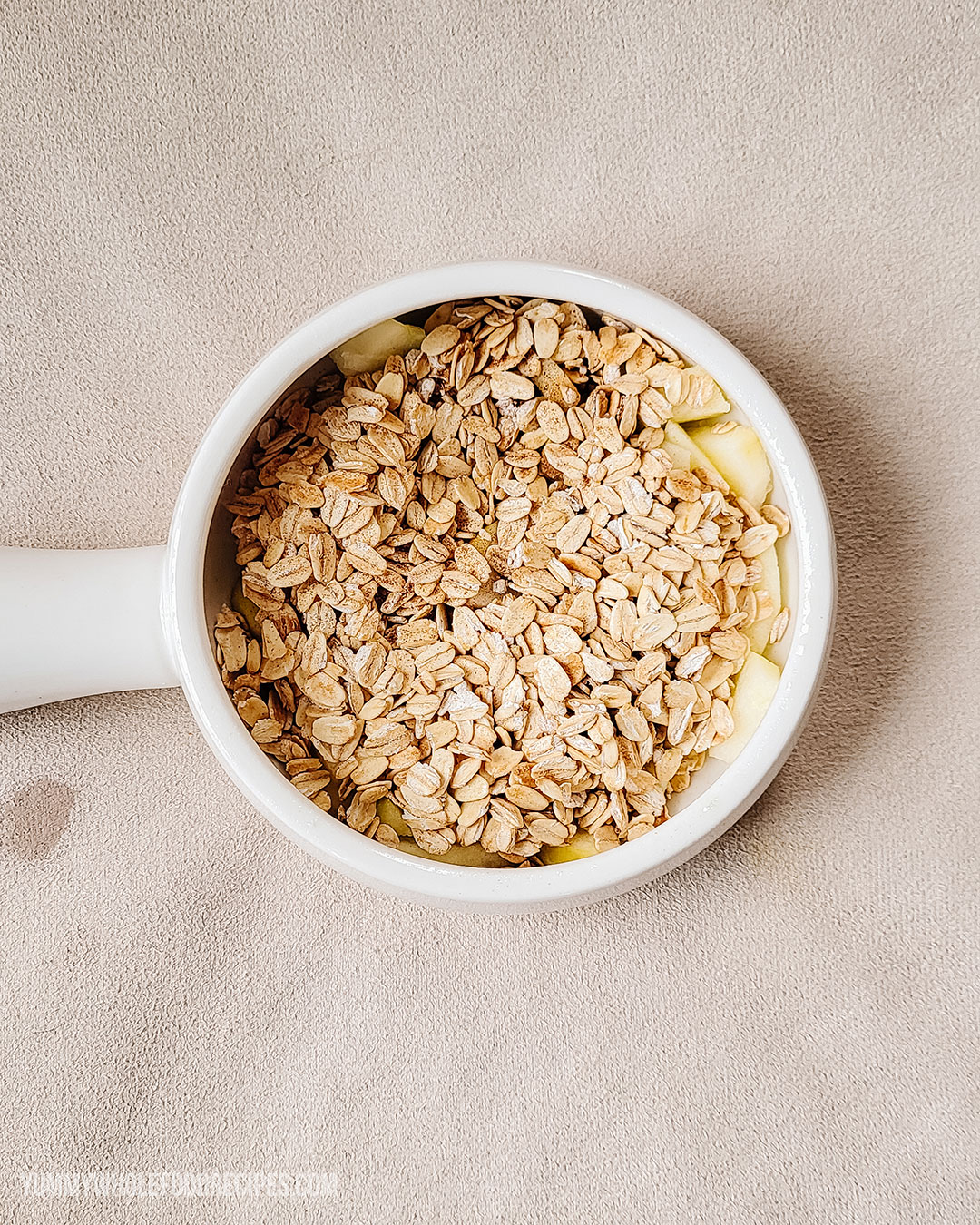 Mix the oatmeal, cinnamon and salt together and pour it over the apples.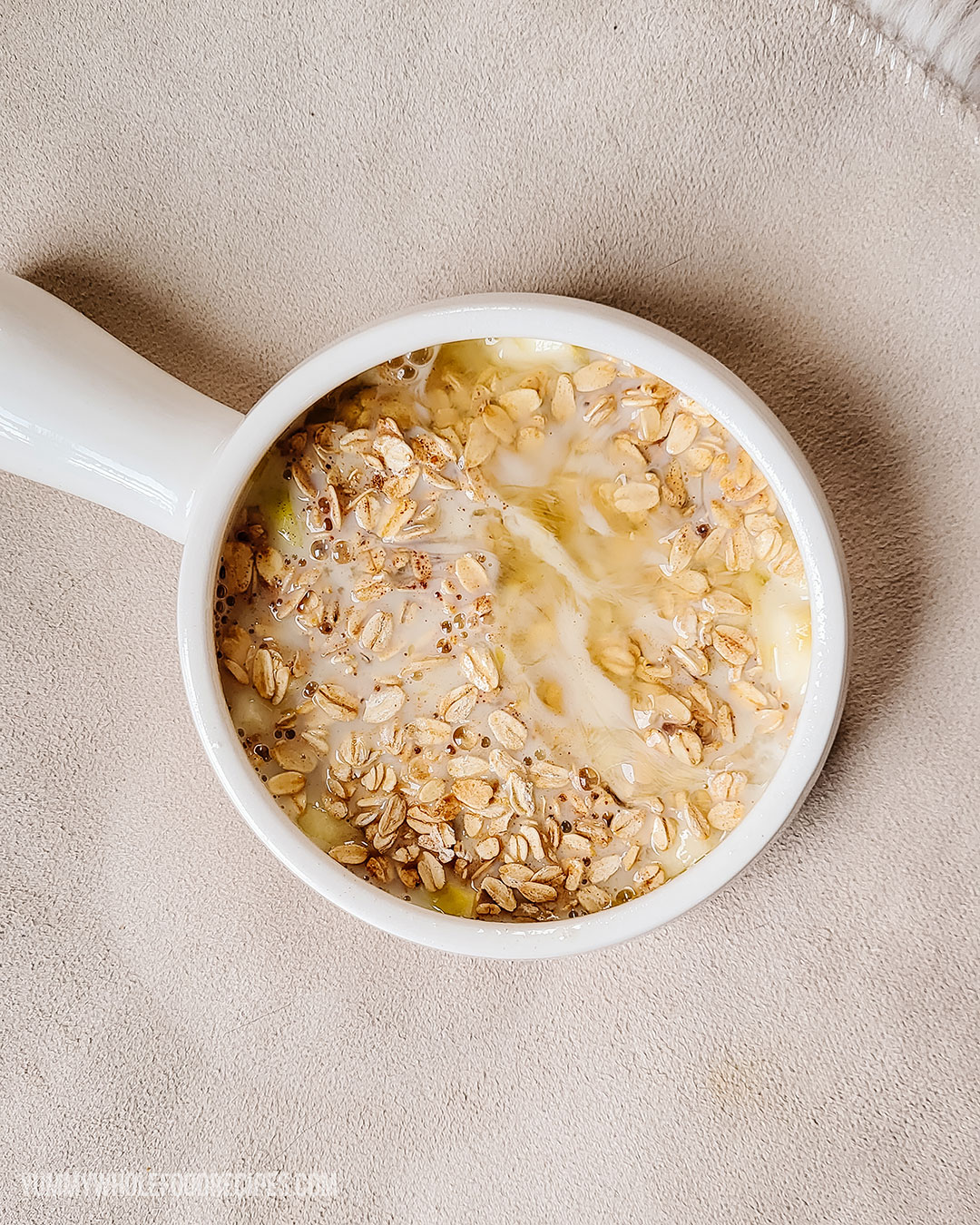 Whisk the egg, milk and pure maple syrup together and pour the wet ingredients over the oat mixture.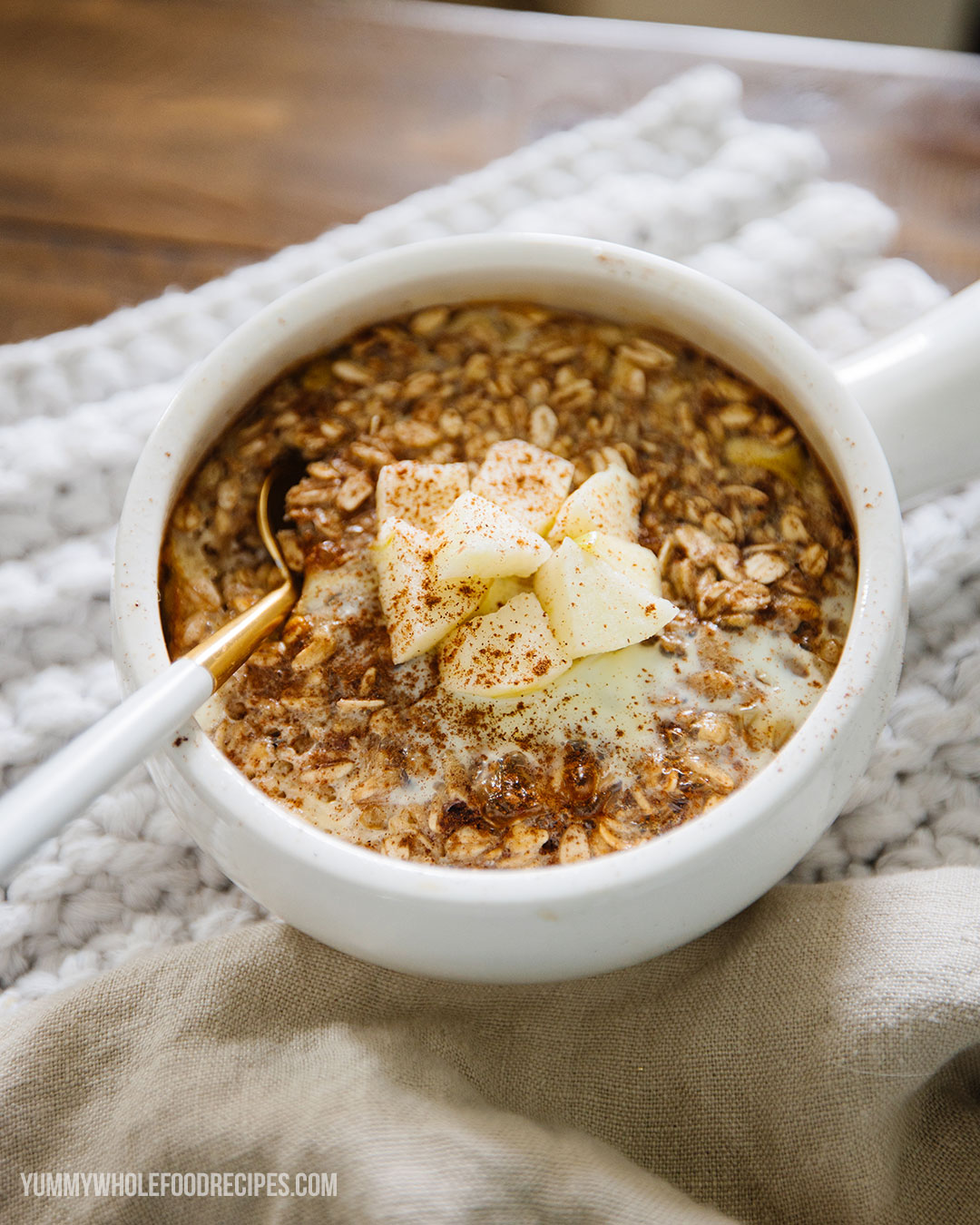 Bake in a 350 degree F oven for about 35 minutes and enjoy as-is, or with your favorite toppings.
Hint: You can use one small bowl to first mix the oatmeal mixture and then the egg mixture so that you're not having to wash two mixing bowls!
Substitutions
Rolled oats – instead of rolled oats, you can use steel cut oats. However, I find you may have to increase the milk by a couple of tablespoons and bake the oats for a few minutes longer.
Milk – instead of cow's milk, you can use your favourite non-dairy milk like nut milk, almond milk, oat milk, or soy milk.
Egg – instead of the egg, you can use one mashed ripe banana. This will give the baked oatmeal a different texture, and you can omit the maple syrup / sweetener.
Maple Syrup – instead of maple syrup, you can use honey, brown sugar or agave syrup.
Variations
You can make all kinds of baked oatmeal recipes for one by using the base recipe of 1/4 cup rolled oats and 1/4 milk mixed with one egg. Here are some ideas:
Chocolate peanut butter – omit the apple and the cinnamon, and whisk 1 Tbsp of peanut butter powder into the milk & egg mixture. After the oatmeal has baked, sprinkle it with a handful of chocolate chips.
Strawberry vanilla – substitute the chopped apple for 1/2 cup of chopped strawberries. Omit the cinnamon, and add 1/2 tsp of vanilla extract to the egg & milk mixture.
Pumpkin spice – omit the apple, and mix 1/4 cup of pumpkin puree into the wet ingredients before pouring them over the oats.
Extra protein – add a 1/2 scoop of your favourite protein powder to the dry ingredients for even more protein.
Topping ideas – top your baked oatmeal with any of these extras after baking it: fresh berries, chia seeds, hemp hearts, Greek yogurt, or chopped fruit.
Equipment
I found this adorable, oven-safe mini casserole dish from Dollarama. However, any small oven-safe dish will work for this recipe as long as it holds at least 250ml. The thrift store often has small ramekins in their ovenware section that would be ideal for baked oatmeal recipes for one.
Storage
You can store any uneaten baked oatmeal in an air-tight container in the fridge for up to 5 days. It can be reheated in the microwave.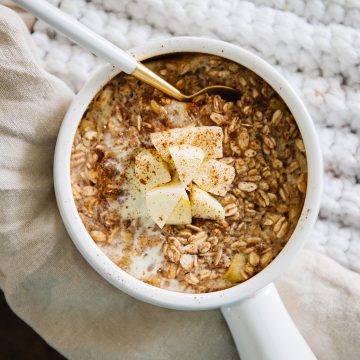 Easy Baked Oatmeal Recipe for One with Apples & Cinnamon
This cozy dish is a delicious way to start the day; the addition of egg and milk makes it higher in protein than regular oatmeal.
Ingredients
1/2

apple

1/4

cup

rolled oats

1/2

tsp

ground cinnamon

1/4

tsp

salt

1/2

cup

milk

1

egg

1

tsp

maple syrup
Instructions
Preheat the oven to 350 degrees F. Prepare a small casserole dish by spraying it with oil or butter.

Chop the apple half into 1/2" pieces. Put the apple pieces in the bottom of the casserole dish.

In a small bowl, mix the rolled oats, ground cinnamon and salt together. Pour the oat mixture over the chopped apple.

In the same small bowl, whisk together the milk, egg & maple syrup. Pour the milk mixture over the oats and chopped apple.

Bake for about 35 minutes or until the oatmeal has set and is golden brown around the edge.
Nutrition
Calories:
282
kcal
Carbohydrates:
38
g
Protein:
12
g
Fat:
10
g
Saturated Fat:
4
g
Polyunsaturated Fat:
1
g
Monounsaturated Fat:
3
g
Trans Fat:
0.02
g
Cholesterol:
178
mg
Sodium:
693
mg
Potassium:
435
mg
Fiber:
5
g
Sugar:
20
g
Vitamin A:
487
IU
Vitamin C:
4
mg
Calcium:
209
mg
Iron:
2
mg
These nutrition values are estimates only. Read my full nutrition disclaimer here.